11 Oct

Posted By
0 Comment(s)
246 View(s)

In a recent turn of events, Stars Arena, the social platform backed by Avalanche's Contract Chain, found itself at the center of a major security breach. Launched last month, this platform had been gaining popularity, following the success of Friend.tech. Stars Arena allowed users to create and monetize online communities, offering influencers, content creators, and public figures a way to profit from their fan base. Users could link their Twitter accounts and trade profile tokens using Avalanche's AVAX, making it an enticing platform for those looking to capitalize on their online presence. However, a late Friday night revelation shook the platform and its users to their core.
The official Stars Arena Twitter account posted a dire warning, confirming that the platform's smart contract had fallen victim to a cyberattack. The message explicitly stated: "We're actively checking the issue. DO NOT deposit any funds."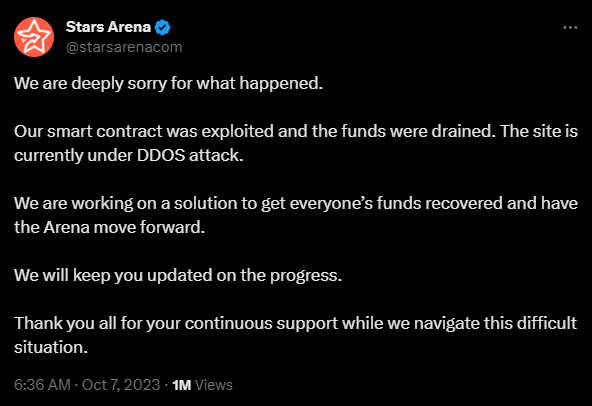 The breach was first noticed by Redline, a self-proclaimed crypto expert. Hackers had exploited the platform, siphoning off 266,103 AVAX, equivalent to roughly $2.85 million, via the FixedFloat exchange service. The repercussions of the attack rippled through the AVAX ecosystem, causing a drop in the token's price from $11.56 to $10.78. Users, in a bid to protect their assets, urged each other to remove Stars Arena from their Twitter accounts.
Hours later, Stars Arena issued an apology for the smart contract exploit. They also confirmed that they were facing a Distributed Denial of Service (DDOS) attack. The team assured users that they were actively working on a solution to recover the lost funds and allow the platform to move forward.
To address the situation, Stars Arena hosted a live Twitter Spaces session on Saturday, during which they announced, "A special white hat development team is coming in to rapidly review the security of the platform. We will re-open the contract with all the funds in full after a full security audit. This will happen very soon."
The breach occurred on the heels of a surge in transactions on Stars Arena, with the platform's volume spiking by 248% in the 24-hour period leading up to the attack. Earlier that week, the platform had also suffered an exploit that allowed hackers to make off with $2,000. Although the exploit was promptly rectified, Stars Arena made it clear they were in a battle against "malicious actors in the space who want to steal your money."
However, there is a glimmer of hope amid the turmoil. In a recent update, Stars Arena announced that they had successfully recovered approximately 90% of the lost funds. An agreement was reached with the individual responsible for the security breach. In exchange for the return of the funds, the responsible party received a 10% bounty fee plus 1,000 AVAX, which had been lost in a bridge.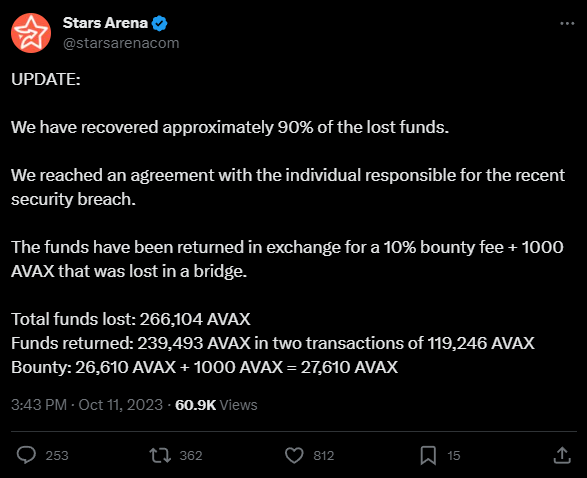 Here are the key figures: Total funds lost: 266,104 AVAX Funds returned: 239,493 AVAX in two transactions of 119,246 AVAX https://twitter.com/starsarenacomBounty: 26,610 AVAX + 1,000 AVAX = 27,610 AVAX
This turn of events marks a significant step towards recovery and redemption for Stars Arena. The platform is determined to learn from its experiences and continue its mission to provide a safe and innovative space for online communities and content creators.
Grab your early bird tickets to Rare Evo 2024!
General Admission - $100
VIP - $400
These early bird prices will go up October 24th.
VIP tickets will be airdropped our Rare Perks NFT!
Purchase Tickets
Here